With configurable onboard pressure dewpoint calculations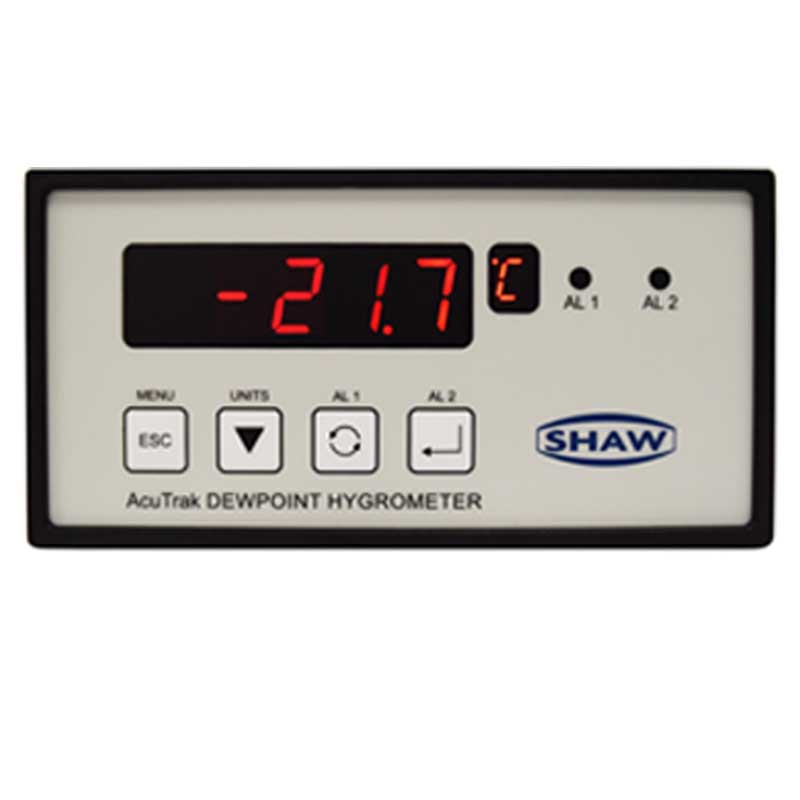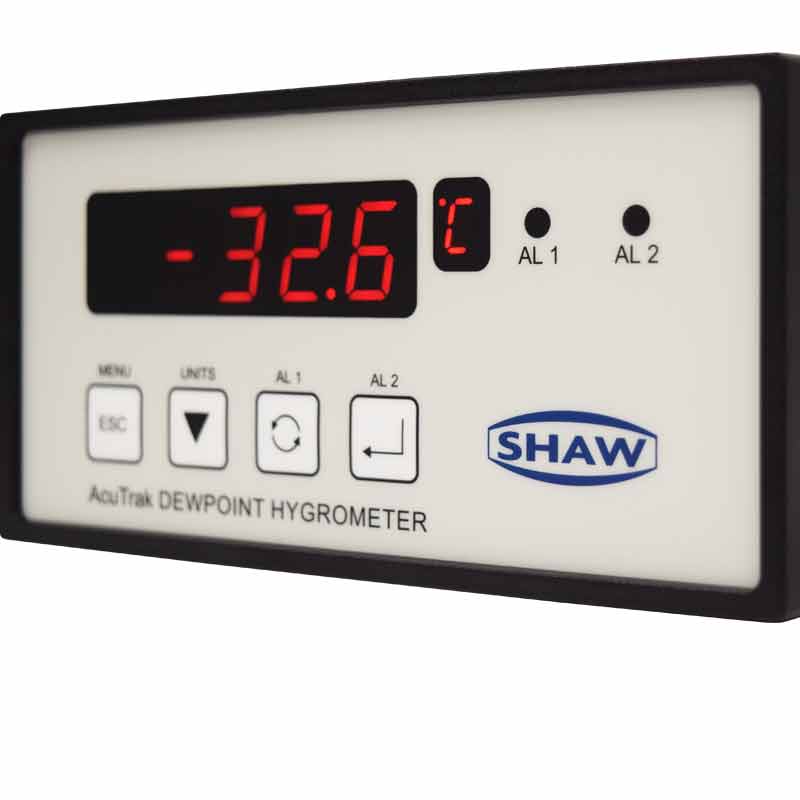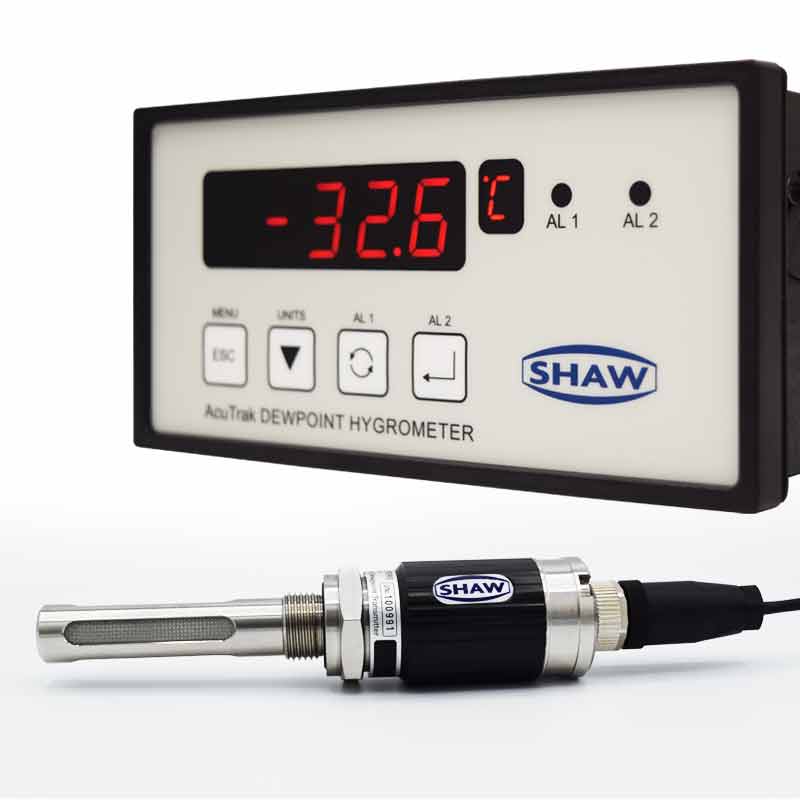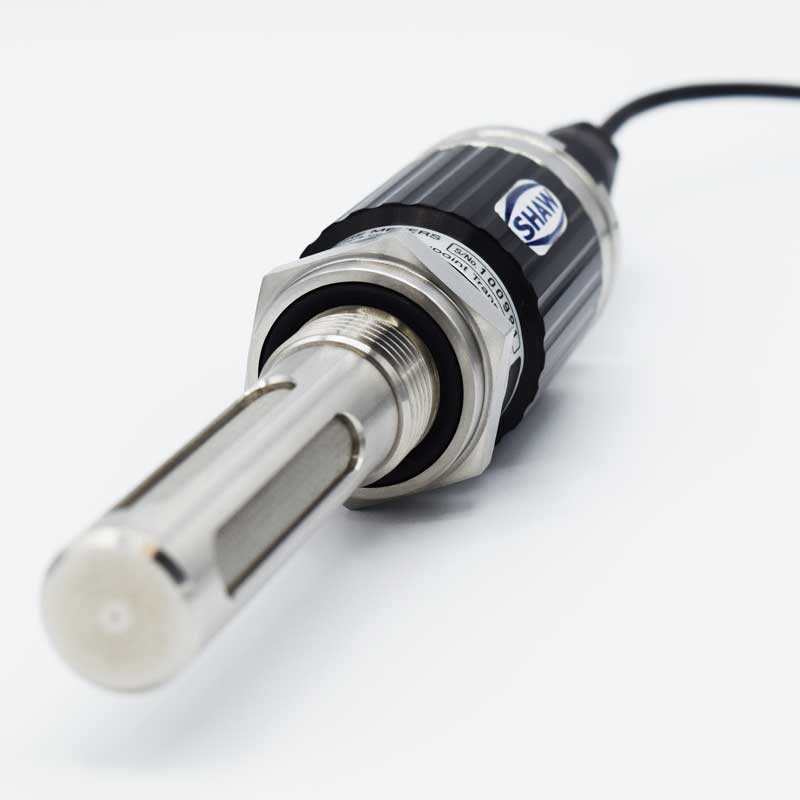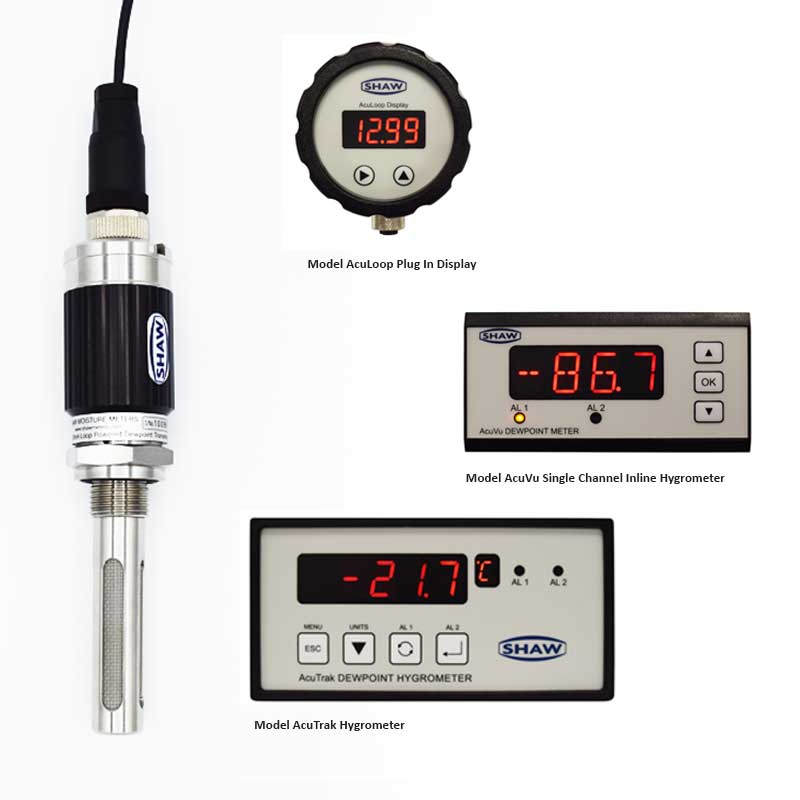 A single channel inline hygrometer, AcuTrak, designed for the measurement of trace moisture in process gases and dry compressed air. This hygrometer is suitable for integration with the AcuDew dewpoint transmitter and features a 4-20 mA analogue output signal and RS485 digital communications. Connection and configuration of the AcuTrak hygrometer and the AcuDew dewpoint transmitter is a simple installation process. This pairing maintains signal integrity from sample point to control system without loss of signal.
The AcuTrak has a universal input power of 90-250 V AC, which can be used anywhere in the world without the need to adjust or select the input power, thereby not requiring a manual switch. A 24 V DC option is also available. The linear 4-20 mA signal retransmission is adjustable and configurable across the range of the dewpoint transmitter. Various dewpoint ranges are available depending on your application requirements. The different ranges are colour coded for easy reference and cover an overall range of -120 °C to +20 °C (-184 °F to +68 °F) dewpoint.
In addition to the large, easy to read, five-character LED display, the AcuTrak hygrometer incorporates additional features, which are user configurable. Default parameters for pressure and moisture are configurable to suit your trace moisture measurement requirements. Select from Pascal, psi or bar for pressure readings and °C or °F dewpoint for moisture readings. The engineering units are configurable to display °C dewpoint, °F dewpoint, ppm(V), ppm(w), ppb(v), g/m³ or lb/MMSCF.
For calculations regarding ppm(w) measurement, AcuTrak allows a selection of the gas type used at the sensor. Use the keys on the front panel to choose from the various predetermined gas types or use your own calculations to enter a known molar mass. Another key feature of this functionality is the choice of Natural Gas correlation, which can be switched off or on, if and when required.
This hygrometer incorporates two fully programmable alarm relays with LED indicators which are independent and as a result, can be set across the full operating range of the connected dewpoint transmitter. With user friendly functionality, the set points can be viewed and adjusted by operating the four button keypad and hot key function accessible from the front panel. The RS485 serial connection provides a digital communication channel for remote interrogation, allowing the operator to set the address and baud rates used in communicating with a PC.
The panel mount enclosure provides panel protection to a weatherproof rating of IP65 and the system is designed to operate continuously with a minimum amount of operator input. Therefore, the hygrometer can be sited in excess of 1,000 metres from the connected dewpoint transmitter. Periodic inspections are advised to ensure that the required pressures and flows are maintained.
Easy to program and requiring little or no maintenance, this pairing of hygrometer and dewpoint transmitter is undoubtedly the instrument of choice when precise measurement and control are required. Supplied ready to use, with an instruction manual and two metres of cable.
Key features of the AcuTrak hygrometer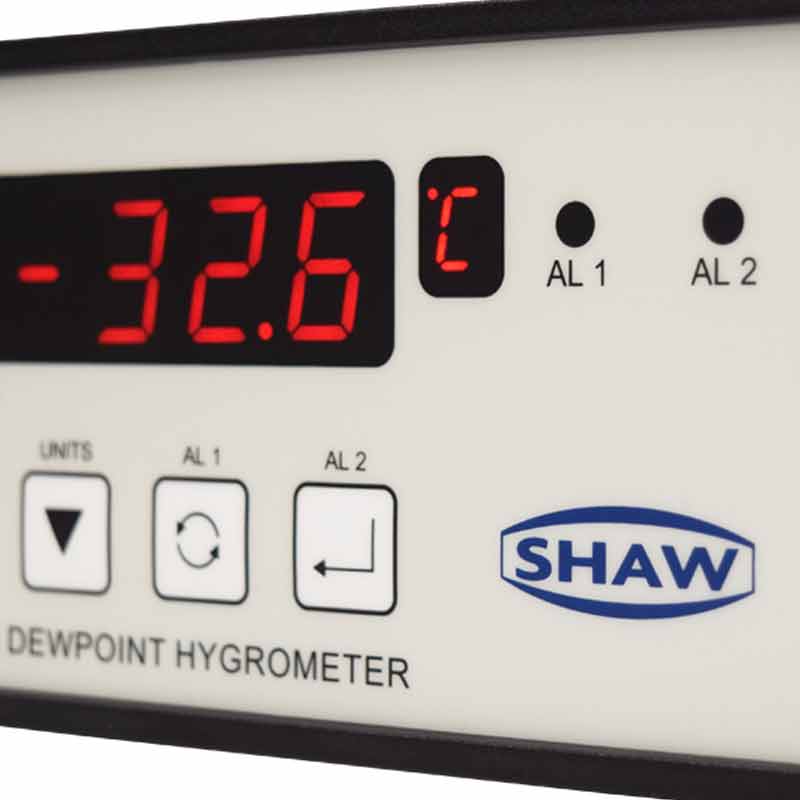 The AcuTrak hygrometer incorporates two independent, fully programmable alarm relays with LED indicators, which can be set across the full operating range of the connected dew point transmitter.
Related products and accessories for the AcuTrak hygrometer
Alternate Displays Available
Do you have a question about this product?
This contact form will only capture the data you have provided. Contact form submissions will be kept for as long as necessary to fulfil your enquiry/request and to fulfil any legal basis for processing.